Represents the biggest monthly jobs gain ever recorded
WASHINGTON, DC – The U.S. Economy added 2.5 million jobs in May, which is the biggest gain ever recorded, according to the U.S. Department of Labor. These job gains coincided with the widespread lifting of COVID-19 lockdowns and the limited resumption of economic activity that had been curtailed in March and April. These additional jobs caused a drop in the unemployment rate from 14.7% down to 13.3%.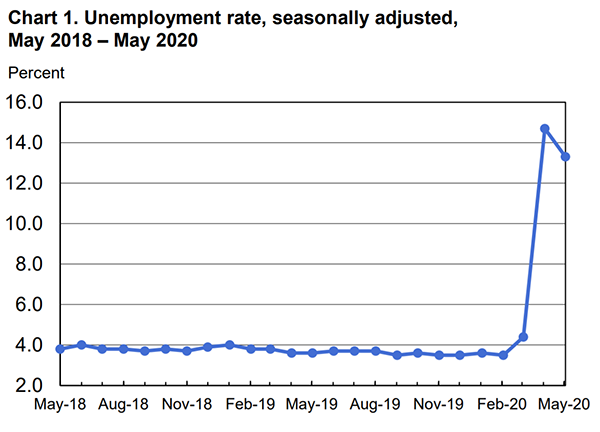 Women benefited more than men in the May jobs recovery, according the report by the Bureau of Labor Statistics (BLS). Unemployment among adult female workers decreased by 13.9%, compared to an 11.6% drop for adult male workers.
The industries that were the big winners in May were:
Leisure and hospitality (+1,200,000 jobs)
Construction (+464,000)
Education and health (+424,000)
Retail (+368,000)
Other Services (+272,000)
Manufacturing (+225,000)
The industries that continued to be challenged in May were:
Government (-585,000 jobs) – most of those losses consist of public education workers
Information (–38,000)
Mining (-20,000)
President Trump reacted very positively to the news, as expected. "We're bringing our jobs back," said Trump at a White House press conference this morning. "We'll go back to having the greatest economy anywhere in the world, nothing close."
Most economists agree that the economy hit bottom on our about April 15th.
Jason Furman, who is currently an economics professor at Harvard and was previously President Obama's chief economist has praise for the Trump administration's initial handling of the COVID-19 economic aftermath, but some reservations about whether Trump will stay the course in providing the required additional stimulus. "One reason for optimism: the fiscal and monetary response to this crisis has been better than any previous crisis," tweeted Furman. "One reason for pessimism: people who misunderstand the above and want to stop the response when more is needed."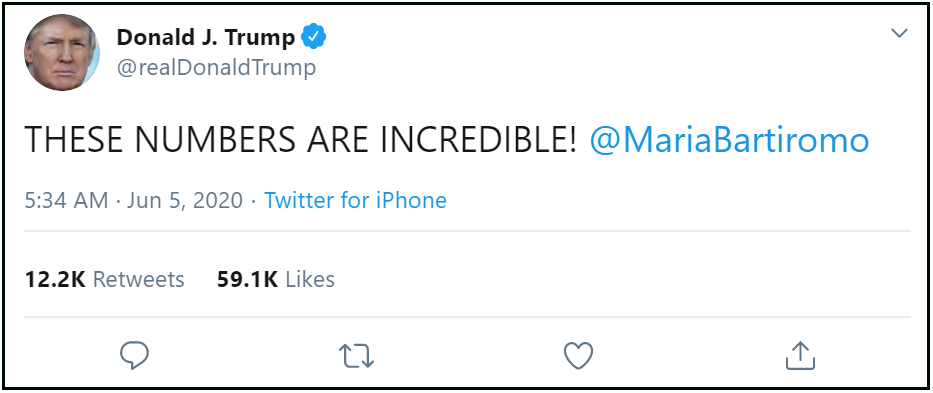 It should be noted that lockdown restrictions have only been partially lifted in most areas, and that the lifting only began in earnest in the middle of May. Thus, June could have much larger job gains. There is still a long way to go before America recovers to the employment levels before COVID-19. February 2020 represented the peak employment, at 158.8 million civilians employed. Due to the shutdown of the economy, the number of civilians employed bottomed out at 133.4 million in April of 2020. With the latest May additions, the current number of employed is 137.2 million.

Even though May's increase is the largest monthly employment increase ever recorded, we still have a long to go before we get back to the levels before COVID-19. Nevertheless, the fact that the U.S. economy added 2.5 million jobs in May indicates that the economic recovery seems to be off to a good start. This is earlier than most of us had predicted the recovery would begin, so it can only be seen as very good news.
---
By Craig R. Everett, PhD. Opinions are solely my own. To follow me or add me as a friend on Bigwigg, please visit my Profile Page.
---
Dr. Everett is a finance professor at the Pepperdine Graziadio Business School, where he teaches entrepreneurial finance and private capital markets.