Will allow more Latinos to achive the American Dream
WASHINGTON, DC – July 9, 2020.  Yesterday, at a White House Rose Garden ceremony, President Trump signed an executive order that expands the Hispanic Prosperity Initiative. This mission of the initiative is to improve access by Hispanic Americans to educational and economic opportunities.
"Hispanic Americans are not only living the American Dream, but their incredible efforts are unlocking the American Dream for citizens all across our land," President Trump stated.
The executive order is intended to allow more Latinos to achieve the American Dream by encouraging pro-growth, pro-family, and pro-community policies such as school choice, personalized learning, family engagement, and civic education. The initiative specifically includes the following goals:
identify and promote educational and workforce development practices that have improved educational, professional, and economic outcomes for Hispanic Americans;
encourage private-sector initiatives and foster public-private partnerships that improve access to educational and economic opportunities for Hispanic Americans;
develop a national network of individuals, organizations, and communities, with which to consult and collaborate regarding practices and policies that improve access to educational and economic opportunities for Hispanic Americans.
"I'm going to fight to ensure that every Hispanic American parent has the freedom and the right to send your child to the public, private, charter, faith-based, magnet, home, or independent school of your choice," stated Trump at the ceremony. "And school choice is an incredible issue in many ways.  It's a political issue, I agree.  Most people agree with us.  The smart ones definitely agree with us.  But it's also a moral issue, and it really is a fundamental issue of civil rights.  No American student should ever be trapped in a failing government school, which has happened so often for so many years.  It's one of the problems you see when you see these cities going up in flame."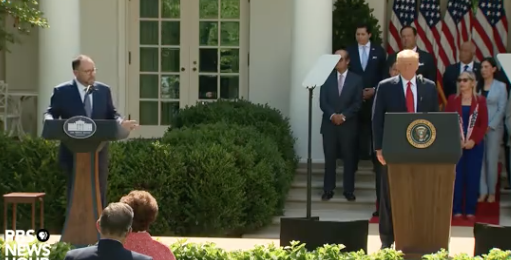 The following individuals were named by Trump to the commission that steers the Hispanic Prosperity Initiative: John Sanchez, Bob Unanue, Mario Rodriguez, Steve Cortes, Lourdes Aguirre, Jose Fuentes, Cassandra Garcia Meade, Chris Garcia, Jesus Marquez, David Olivencia, and Alfredo Ortiz.
"Mr. President, your leadership, when it comes to job creation; education reform; choice, when it comes to education, will allow this country to fulfill its American Dream," stated John Sanchez, former Lieutenant Governor of New Mexico and new commission member. "I'm honored to be here with you, Mr. President. Your great leadership, making America great — we stand with you. We'll keep America great under your leadership."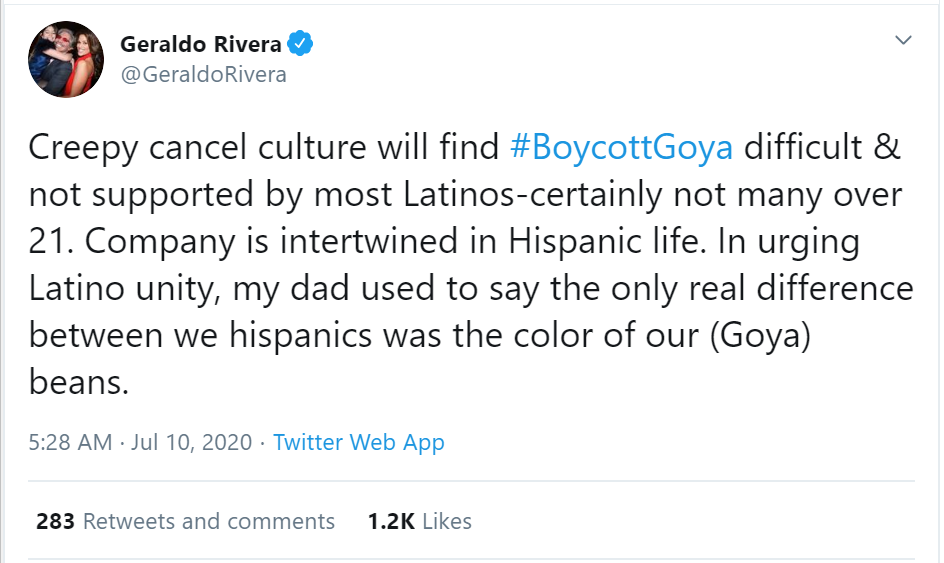 Bob Unanue, CEO of Goya Foods, stated, "We're all truly blessed at the same time to have a leader like President Trump who is a builder. And that's what my grandfather did: He came to this country to build, to grow, to prosper. And so we have an incredible builder, and we pray — we pray for our leadership, our President, and we pray for our country that we will continue to prosper and to grow."

Some people on the left have now called for a boycott of Goya Foods, due to their CEO's praise for Trump and support of the Hispanic Prosperity Initiative. It is unclear, though, how much support there will be for boycotting Goya for supporting Hispanic prosperity. "Creepy cancel culture will find #BoycottGoya difficult & not supported by most Latinos-certainly not many over 21," tweeted journalist Geraldo Rivera. "Company is intertwined in Hispanic life. In urging Latino unity, my dad used to say the only real difference between we hispanics was the color of our (Goya) beans."
---
By Sarah Jones-Koskinen. Opinions are my own. To follow me or add me as a friend on Bigwigg, please visit my Profile Page.
---
On Bigwigg there is no shadow-banning or ideological censorship. Join Bigwigg today for free and invite your friends.