Sets the all-time jobs gain record for the second month in a row
WASHINGTON, DC – The U.S. Economy added 4.8 million jobs in June, which sets the all-time jobs gain record for the second month in a row, according to a report released this morning by the U.S. Department of Labor. These job gains coincided with the continued lifting of COVID-19 lockdowns and the resumption of economic activity. The unemployment rate fell from 13.3% down to 11.1%, with the leisure and hospitality industry dominating the job gains for June.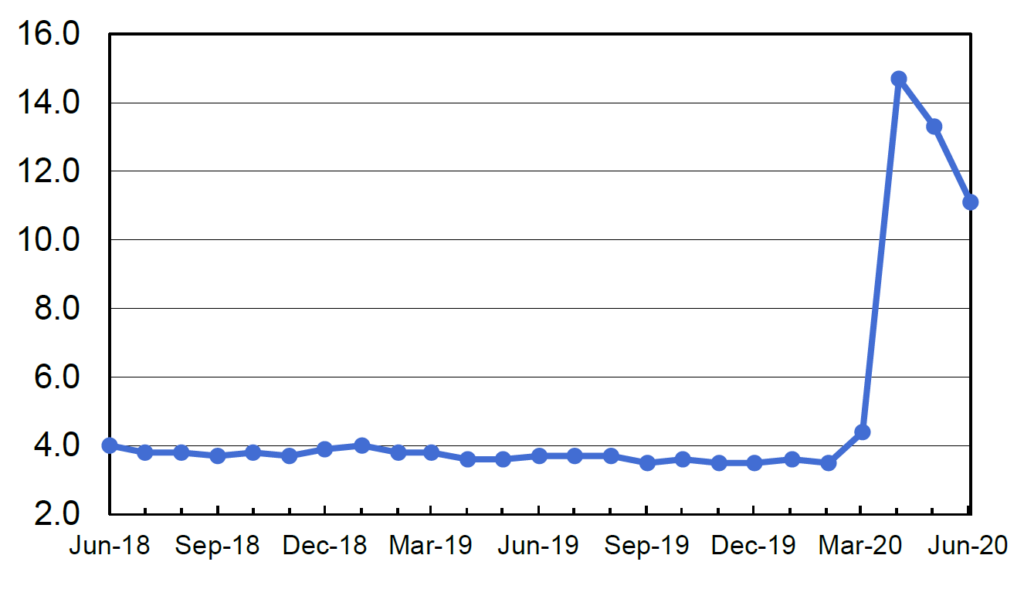 Once again, women benefited more than men in the June jobs recovery, according the report by the Bureau of Labor Statistics (BLS). Unemployment among adult female workers decreased from 13.9% to 11.2% (a change of -2.7), compared to a decrease from 11.6% to 10.2% (a change of -1.4) for adult male workers. Although the decreases in the unemployment rate have been better for women, their total unemployment rate is still a full percentage point higher than men.
Latinos fared best in June, with a drop in unemployement of -3.1%, followed by whites (-2.3%), blacks or African Americans (-1.4%), and Asians (-1.2%).
The industries that were the big winners in May were:
Leisure and hospitality (+2,100,000 jobs)
Retail (+740,000)
Education and health (+568,000)
Other Services (+357,000)
Manufacturing (+356,000)
Construction (+158,000)
The only industries that continued to be challenged in June were mining and utilities, with losses of 10,000 and 3,200, respectively.
"The United States economy added almost 5 million jobs in the month of June, shattering all expectations," President Trump said. "Our economy is roaring back."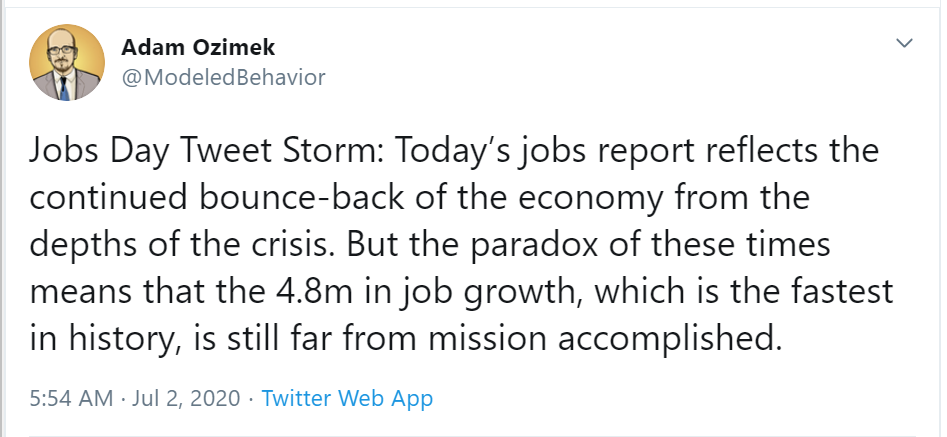 Responding to today's data from the BLS, Adam Ozimek, chief economist at Upwork said, "Today's jobs report reflects the continued bounce-back of the economy from the depths of the crisis. But the paradox of these times means that the 4.8m in job growth, which is the fastest in history, is still far from mission accomplished."
Steven Rattner, economic analyst and former head of Obama's Auto Task Force said, "An encouraging and better than expected gain of 4.8M jobs in June continued to eat away at the virus-related hole of 22M jobs. Still another 14.7M left to go. Let's see how much of a stall unfolds in July as many states pause re-openings."

With the recent surge in reported COVID-19 infections, driven by increased testing, lockdown relaxations in May and June, and widespread demonstrations and riots without social distancing, it remains to be seen if these large employment gains will continue in July. Even if we see additonal jobs gains in July, they are likely to be much more modest than the historic June numbers.
---
By Craig R. Everett, PhD. Opinions are solely my own. To follow me or add me as a friend on Bigwigg, visit my Profile Page. Please join my discussion group on Bigwigg.
---
Dr. Everett is a finance professor at the Pepperdine Graziadio Business School, where he teaches entrepreneurial finance and private capital markets.